The lyrics of 'CHITTA KURTA SONG' by 'KARAN AUJLA' with 'GURLEZ AKHTAR' is his latest track and is said to be his reply to Sidhu Moose Wala's Dhakka track. Sukh Sanghera shoots the music video for 'Chitta Kurta Lyrics' which are drafted down by Karan himself. Deep Jandu is the composer of music.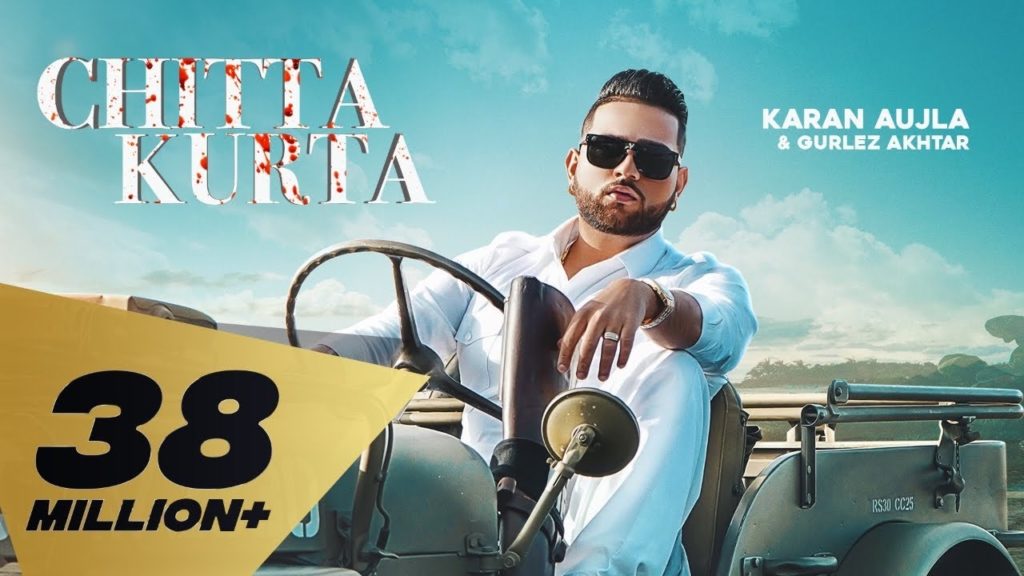 Song: Chitta Kurta
Singer: Karan Aujla
Music: Deep Jandu
Lyrics: Feat / Gurlez Akhtar
Project By: Deep Rehaan & Sukh Bajwa
Label: Rehaan Records.
Chitta Kurta Song Lyrics In English – Karan Aujla
Deep Jandu
Karan Aujla
Sanddep Rehaan
Rehaan Records Baby
Gurlez Akhtar
Oh haje kal si banaya, jatta nawa si savaya
Ve tu sachon sach dass mainu karke ki aaya
Beh ja ghare tikk ke sakoon naal ve
Phirda kyun, bhid'da kanoon naal ve
Haye ajj phir kihde naal kheh ke aa gaya
Chitta kurta labedeya tu khoon naal ve
Ajj phir kihde naal kheh ke aa gaya
Chitta kurta labedeya tu khoon naal ve
Main si chup khada vich aake vajje ne
Dhaun jehi marod ditti hath sajje ne
Khaali hath nikleya jhalla hi si main ni
Oh taan 3-4 seege kalla hi si main
Aakhde si lokan nu ke dhakka karna
Bolde hi seege ki si dakka karna
Hale mainu pai gaya si pakka karna
Inne vich kude saara nibad gaya
Vairi saare shehar vichon saaf karte
Tahiyon chitta kurta ni libad gaya
Vairi saare shehar vichon saaf karte
Tahiyon chitta kurta ni libad gaya
Ve kal nu akhbaran vich hone charche
Judge'an to vakeelan de chalave kharche
Ho 10vi da paper taan ditte nai gaye
Tainu raas jatta thaane wale parche
Khaure kithon tere ch daleri aa jaave
Peg laake mota jeha loon naal ve
Utton tere yaar saare vellad yaara
Ve kar lave kathe ik phone naal ve
Haye ajj phir kihde naal kheh ke aa gaya
Chitta kurta labedeya tu khoon naal ve
Ajj phir kihde naal kheh ke aa gaya
Chitta kurta labedeya tu khoon naal ve
Hoye Aujle nu bahla si harak goriye
Raaton raat bhejde narak goriye
Gabbru haraya jaanda panje naal na
Ni do din tu hi laggu majje naal na
Munh te aake nikli kise di awaaz na
Gun'an te lafedeyan na kitti khaaj ni
Aivein si bajaye jivein vajje saaj ni
Jadon oho sudhre main bigad gaya
Vairi saare shehar vichon saaf karte
Tahiyon chitta kurta ni libad gaya
Vairi saare shehar vichon saaf karte
Tahiyon chitta kurta ni libad gaya
Ae border'an te jatta tere pange chalde
Khaure ki truck'an vich lod karda
Ho asle ton mehangi mainu tu paini ae
Ni aina khush reh main afford karda
Ve rukuga jatta ni bahla chirr karda
Ho jatt de roke ni biba phir chalda
Ho jatta ve, jatta ve mera sir chalda
Kattni aa raatan ni main moon naal ve
Ajj phir kihde naal kheh ke aa gaya
Chitta kurta labedeya tu khoon naal ve
Ho vairi saare shehar vichon saaf karte
Tahiyon chitta kurta ni libad gaya
Ajj phir kihde naal kheh ke aa gaya
Chitta kurta labedeya tu khoon naal ve
Ho vairi saare shehar vichon saaf karte
Tahiyon chitta kurta ni libad gaya
Ajj phir kihde naal kheh ke aa gaya
Chitta kurta labedeya tu khoon naal ve
Music Video of Chitta Kurta Song